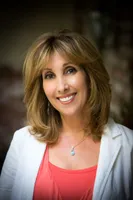 Jodi Frey is a Licensed Marriage Family Therapist specializing in individual, couples and family therapy with the approach of helping people reach their full potential in life. She maintains a private practice in both Westlake Village and Thousand Oaks .
Jodi has over twenty years of experience as a licensed Marriage Family Therapist. About half of those years were spent working in school settings serving adolescents with severe behavioral difficulties, learning disabilities and ADHD which greatly interfered with their school performance. She served as a school liaison for Ventura County Behavioral Health and the school district running socialization and anger management groups while seeing the students on an individual basis as well. She also worked collaboratively with the families to implement positive change.
For the past six years, she has brought her wealth of experience to the private practice setting expanding her focus to a broad spectrum of clients. She particularly enjoys working with couples teaching communication techniques giving couples the opportunity in becoming closer to one another. She also works with individuals who have suffered from anxiety disorders, depressive disorders, PTSD and sleep disorders helping people move past the difficulties by learning practical coping skills to succeed.
In addition to having her own private practice, she has worked as a Clinical Supervisor at California Lutheran's Community Counseling and Parent Child Study
Center for the past several years supervising students on an individual basis and in a group setting.
Jodi provides support and compassion while working with her clients and utilizes various approaches to achieve the best results. She uses cognitive behavioral, family systems, humanistic and psychodynamic methodologies to empower her clients to live balanced productive lives.
As a mother of two adolescent/young adult children, Jodi brings personal experience along with her humor to the practice of psychotherapy.
Contact Me Today: (818) 584-7334